We've been having some non-profit bake sales in town to raise support for the trip!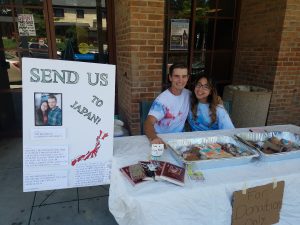 We set our table up in front of the old bank about once a week. Both locals and tourists have been interested in the sale, and we've been able to share quite a bit about Japan's need for the Gospel.
For our first bake sale, we had the traditional lineup of cookies, brownies, and other sweets, but most of the people who stopped by were very health-conscious and didn't want sweets. They still gave for the trip, but not many of our baked goods were taken. Since then, we've been making things with a lot less sugar (like homemade pretzels and lightly-carameled apples) so that people have some healthier options.
Our church also provides us with free bibles and tracts to hand out to passers by. Several people have taken them, and a few have briefly stopped to ask about the Lord and our faith in Him. It's great to be able to share the Gospel here while also raising support to share the Gospel in Japan.
Please pray that the Lord would continue to provide the funds we need to be able to go to Japan, and pray for the people who come to our table each week, that the seeds that the Lord plants in their hearts will grow.