Hi, everyone! It's been a while since our last update, but things are continuing to go well.
So far, there are eight pastors in eight different locations in Japan who have invited us to come visit them to talk about long-term ministry. Please continue to pray that the Lord would direct us to the place He would like us to eventually move to.
Six weeks is a pretty short time in which to visit eight churches, but as we continue working on the schedule, it looks like there should be enough time. Below is a photo of the location of each of the churches we plan to visit. We'll be based centrally in Machida, but we'll be traveling all the way up to the northern city of Hachinohe, and also as far south as Osaka. Four of the eight churches on our list are in the Tokyo area, very accessible to reach from Machida.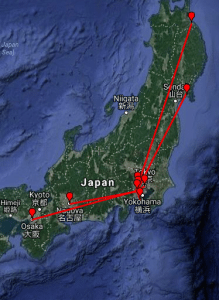 This past week, Meryl and I had the opportunity to attend the Calvary Chapel Missions Conference in Murrieta. It was a great time to fellowship and pray with other missionaries, as well as to hear of the reports of what God is doing in the lives of people all over the globe. Though many people are repenting and turning to Jesus throughout the World, there is still so much work to be done and such a tiny amount of workers in comparison to the task. However, the Lord is faithful and able, and He is adding to the church daily those who are being saved.
During the conference, we had the opportunity to meet and spend time with Kiyomasa and Taeko Akashi of Calvary Chapel Logos, Tokyo. The aspect that most stood out to us about them is this: though they have patiently persevered through much in ministry, they are still so full of joy! It really blessed us to see not only their faithfulness to persevere, but also this abounding joy that they express in that faithfulness; it is a contagious joy.
Attached below is a photo of the four of us. We will visit with them again once we head out to Japan.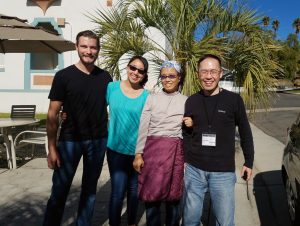 Please continue to pray for our support. As for how that's going, here's a general breakdown of which of our main costs are covered or not yet covered:
• Our flight in and out of Japan (COVERED!)
• A place to stay for 41 days (COVERED!)
• Transportation for getting around Japan for 41 days (COVERED!)
• Food money for 41 days (not yet covered)
We estimate that we'll need to raise about $1000 more in order to be at 100% coverage for this initial trip.
There are about seven weeks remaining until we fly to Japan. Here are some things we'd love prayer for:
• That the Lord would continue to prepare us and show us how to best prepare.
• That language-learning would continue to go well.
• That the Lord would go before us to prepare where He wants us to go; That he would open doors.
• That all our needed support would come in.
Thank you for your prayers and support 🙂
Love,
Cameron and Meryl