Hi everyone!
Today will be our 5th day here in Japan!
When we got off the plane, we delivered our bags to the airport's baggage delivery service to take to our lodging. From there, we needed to hop on a few trains to get to the apartment. Stepping onto the first train platform, we realized that we would get to experience Tokyo's evening commute time (when the trains get completely packed with people). At first, it wasn't so crowded. As we boarded, a Japanese man reading a book came and stood by us. More people piled into the train car as it arrived at each subsequent stop; it soon became so crowded that several people were reading the man's book, over his shoulder. We experienced this sardine-style travel on each of the trains until we got to our destination.
At one of the train stations, I (Cameron) reached for the phone in my pocket to take a look at which train we were supposed to take next. My hand reached into an empty pocket… the phone was gone! On that phone was all of our scheduling info for meeting churches, plus a lot of other important info for our trip. I double-checked my other pockets; yup, no phone. We retraced our steps back to the last ticket machine we had used. There was a counter next to it, manned by two workers. I asked them if a phone had been turned in, and, to our relief, it had been! In the midst of keeping track of our passports, backpacks, money, tickets, phones, sanity, and directions to our apartment, I had set down my phone at the ticket counter and had forgotten it there. Someone had found it and was kind enough to turn it in to the counter, where we picked it up. Thanking the Lord, we continued on and made it to our apartment.
The area we're staying in is Machida, a suburb of Tokyo. Our apartment here is very small (about 100 square feet), but has everything we need, including a washer and a mini kitchen. It will serve as our main base as we travel out to meet various churches and fellowships.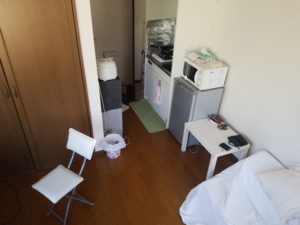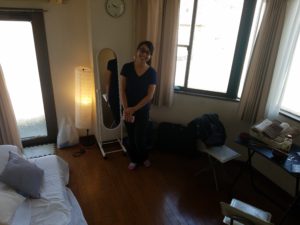 After sleeping, we spent our first morning praying together and seeking the Lord. We then went to take a look at the surrounding area. We are surrounded by suburbs for miles and miles, with the exception of an occasional park. Throughout the city are innumerable reminders of the religions that Japan holds to; Buddhist temples and Shinto shrines seem to be in most parks, and even on some street corners. They are not merely decorative either; we saw dozens of people throughout the day worshiping at these sites.
On Wednesday, we attended a prayer service at Calvary Chapel Tokorozawa. This church is pastored by Travis Takamiya, who lives there with his family. The congregation meets in a little downstairs room in the middle of the suburbs. During the service, we prayed for the surrounding area, and for some specific needs of the people who attend church there.
On Thursday, Meryl and I both got a pretty bad cold. I walked to the nearest drug store and bought some medicine there. Meryl and I stayed home that day to recuperate. We are still sick today, but not nearly as bad.
Please pray that the Lord would continue to show us what He has for us here, as we seek Him each day, and that He would open doors for us to find the place he has for us in Japan.
Blessings,
Cameron and Meryl